A great article by a fellow coach, Chris Fore…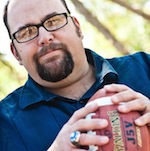 Three Reasons Coaches Aren't Respected Like The Old Days
Posted: February 11, 2016 Author: Chris Fore
I read this article by LA Times sportswriter Eric Sondheimer. It's a tremendous article, and he is RIGHT ON with "sounding the alarm" regarding the bad behavior of student-athletes these days.
There is a phrase in the article that really got me thinking, and prompted me to write this article.  He says "What's so baffling is why athletes no longer fear their coaches."
To me, someone who has been coaching high school football for 15 years, it is not baffling at all.
Three Reasons Coaches Aren't Respected Like The Old Days…
Read the full article HERE